A GUIDE TO INSPIRE YOU ON THE PERFECT COMBINATION SHOES-SOCKS
The problem might not ever had crossed your mind and, let's be clear, we are not trying to convince you it should have… But which is the best pair of socks to wear for each different style of shoes? Is it the shoe, the outfit or the occasion that rules? Is there actually a rule?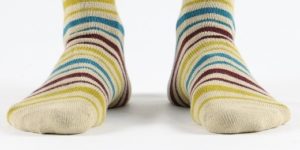 Men, now, might in fact start getting dressed from their toes and work their way up and whether it's bold colours, striking patterns, or novelty repeats, the standard for men's socks has shifted in a big way.
We have recently been inspired by the launch of some very exciting socks brands that have developed in such a way that socks have now gained the status of influential brands. Sock brands that have suddenly conquered their special space in stores and windows and developed a whole new level of online presence and service for something that was before brand-invisible… like a pair of socks…
But which are the elements to consider when choosing a pair of socks?
SHOES
Oxford Shoes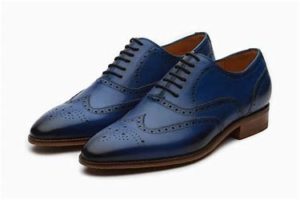 When it comes to men's dress shoes, the Oxford reigns supreme. The elegant footwear style has been lending a dapper touch to outfits for centuries and continues to do so today. Perfect for looks ranging from the most formal to smart casual, Oxfords are as versatile as they are timeless. As such, they are an essential staple for all gents, no matter their style.
Why not go for a classy silk & cashmere blend for your socks?
Loro Piana socks in cashmere or silk and cashmere (more durable than pure cashmere) are hand finished which means no rough stitching. You can treat them as an investment as they truly are precious.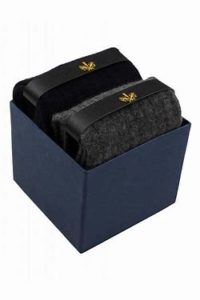 Or go subscription with London Socks Company, they send you new socks every month to make sure you are not left with an empty socks drawer.
DERBY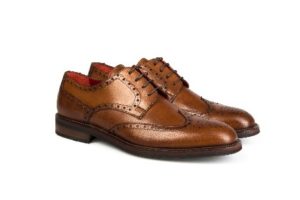 With a more relaxed look than the Oxford shoe, the Derby adds diversity both in terms of how they are worn – smart or casual – and how they are made, with suede being as popular choice as leather. A pair of Derby would naturally call for a classic solid colour sock, perhaps a stipe.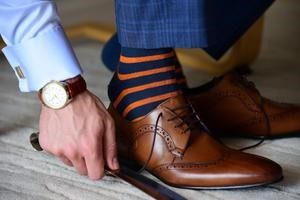 CHUKKA&CHELSEA – Excellent for a less formal look so go for bold even with your socks. If you are a confident man why not go for a patterned sock? You might like to choose from any of those amazing brands that Mr Porter is stocking at the moment?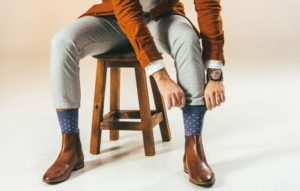 DRIVING SHOES –  for the most comfortable slip on no socks are needed. Freedom. Style. Just grab a pair of this season Jack&Me Jenson driving shoes in Navy Blue Suede or Bold Orange Suede https://jackandme.co.uk/product/jenson-mens/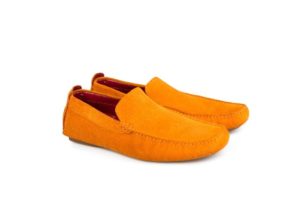 SNEAKERS – Feel free to be inspired….  Colourful socks or no socks there is little mistake to be done.
Why not accompany your Jack&Me Tom sneakers with a funky pair of Happy Socks?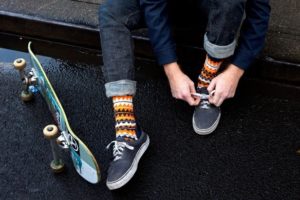 SOCKS TITLE
This is the thread's length. i.e. if it states 1/90 it means there is 1 gram of cotton for each 90 metres of thread. So the highest the title the thinner the sock will be. A double thread sock will be more durable than a single thread and so on…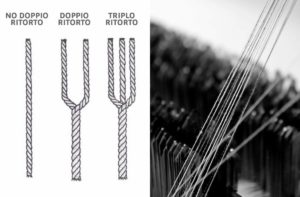 HAND LINKING
There is nothing else like feeling in your hand the texture of a seamless garment, especially if they are socks. Hand linking is an old technique where the craftsperson matches every single stitch that is sewn together to close the toe of the sock. If you like comfort try to choose the smoother toe finish.
MATERIAL
Cotton, the most common is Scottish lisle cotton which is loved for its superior strength and durability. Another precious cotton is known as Mako'.
Wool, for the winter your choice should be wool, mix wool with cotton wool or wool with silk.
Cashmere or Cashmere and Silk for very warm, luxurious and expensive socks for the gentleman who doesn't compromise.
Precious and delicate silk socks can be preferred for the formal events or summertime.
Linen socks are ideal for summer and it is often produced mixed with cotton thread.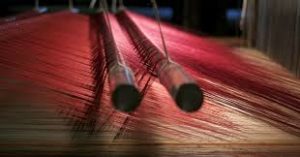 DIMENSION
Mid-calf socks – are the socks that should be filling up your sock drawer — they're the workhorse of the modern man's sock supply.
The mid-calf style is perfect with sneakers, loafers, dress shoes, boots and everything in between. Plus they can be found in just about any colour, pattern, thickness or material you can dream of.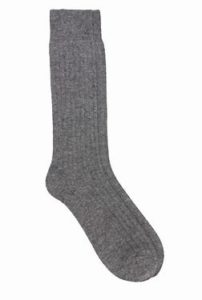 Ankle socks – Wearing them should be limited to the gym or other physical activities.
This same rule applies to white athletic socks (at any length). In fact, unless you are a professional tennis player in Wimbledon, we don't recommend wearing white athletic socks in any situation.
No show socks – Please use them if your slip on are not as soft and comfortable as promised. But, as the name suggests, do not show them, do not talk about them.
Over the calf (OTC) Socks – These were actually developed to keep the socks from pooling around y our ankles without the need of sock garters. Luckily technology developed and OTC socks found their natural decline. Stay away if you can. No shoes deserve these.
By Jack&Me May 2019